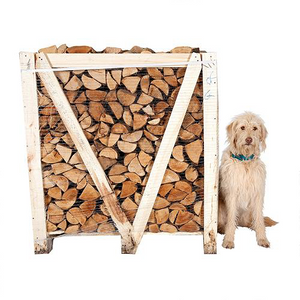 Dimensions: 85cm (D) x 110cm (W) x 120cm (H)
Approximately 450 logs  
Moisture content: guaranteed below 15%, typically 11-12%
Sourced from sustainable and responsibly managed woodlands. 
Crates are delivered using tail lift and pallet truck but cannot travel over soft ground (grass, gravel, soil), tall curbs or steep inclines. We will try and get them as close as you need them. The crate acts as a secure and stable log store.

More cost efficient than buying kiln dried beech in nets or loose cubic metre dumpy bags. When emptied out the volume is equivalent to 1.5 cubic metres of loose logs.

Rich bright flame and comforting aroma, perfect for wood burning stoves, fire pits, and chimineas etc. Also perfect for open fires, outside the smoke controlled zone. We would particularly choose this wood for BBQs and firepits.  Sourced from sustainable and responsibly managed woodlands. Higher heat output than seasoned logs, lights immediately, gets hot quickly.

Improves efficiency and overall temperature so that you burn less. More environmentally friendly - less smoke, generates less ash to clean out and reduces resin in the firebox and flu. Cleaner - no insects, reduced debris to track into your home, can be stored inside or out.