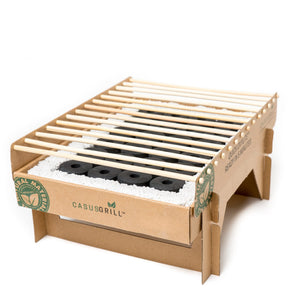 CasusGrill is a sustainable and biodegradable barbecue, made from only natural materials, with no plastic, no metal, and no fossil fuels.
The quick patented Oxylite gives high, even cooking heat for over an hour and is ready to cook in just 5 minutes.
All materials are sustainable and biodegradable except the lava stones. The lava stones can easily be returned to nature and even used as soil improvement and 100% pure cultivation for plants. The CasusGrill can be disposed in a bonfire and leaves NO rubbish behind in nature.