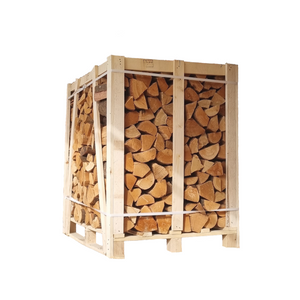 NOTE: These are NOT the same as our usual 1.2m crates. The dimensions for this crate are:
Height: 110cm
Width: 107cm
Depth: 74cm
If you are looking for the 1.2m crate, please go to the 'Beech' section on our website and select '1.2m crate kiln dried Beech firewood'.
Sourced from sustainable and responsibly managed woodlands. 
Crates are delivered using tail lift and pallet truck but cannot travel over soft ground (grass, gravel, soil), tall curbs or steep inclines. We will try and get them as close as you need them. The crate acts as a secure and stable log store.